GRANDMASTER LAM SAI WING (1860-1943)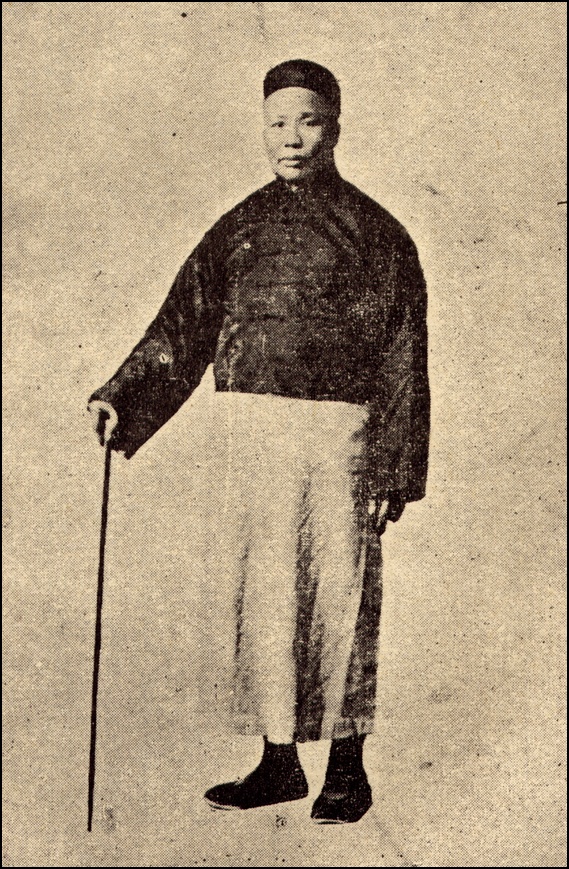 BIOGRAPHICAL NOTE
Like his nephew and student Lam Cho, Lam Sai Wing practiced, from his youth, both traditional Chinese medicine (Dit Da), and traditional Chinese martial arts, which he studied under the legendary Wong Fei Hung. Grandmaster Lam Sai Wing's books on the three primary forms of Hung Ga continue to reward study, the "工" Character, Tiger Subduing Set (gung ji fuk fu kyun), Tiger and Crane Double Patterns Set (fu hok seung ying kyun), and Iron Thread Set (tit sin kyun).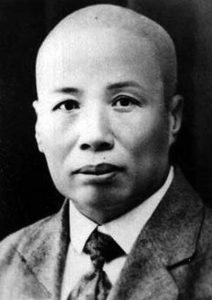 LAM SAI WING ON MARTIAL ART
嘗言有文事不可無武備蓋武備為文事之後盾也
 
It may be said that to prosper in civil endeavor, one cannot be without martial preparedness, for martial preparedness shields all civil endeavor. [Confucius: "civil and martial are doubly complete."]
 
僕自少從師於今閱六十餘載幸得先師垂愛得少林之衣鉢
Since youth I have studied martial art, for some sixty years or more, at last fortunate to receive the Honorable Master's conferral of the Siu Lam robe and bowl. [This is a reference to the formal transmission of successorship in Buddhist tradition.]
 
然自維駑劣不敢以問於世無如世好故舊相與推荐遂不能不有以酬其誠計茲授技亦數十年矣
 
And so, even as I yet feel the need to improve my skill, as both friend and stranger alike have urged me to pass on my knowledge, for the past ten years, I have done so.
 
自不敢以循循善誘居功然而彼來此去互相遞邅數己不可勝計
 
I cannot take credit for being one who has slowly and carefully guided students down the path of learning. The mutual exchange between those students and myself, over the years, has been immeasurable.
 
竊謂拳術一道誠易學難精先要明其規矩習其標準然後假以氣力善於接橋明此則功自進更
 
It has been my experience that martial art, in general, is easy to learn, yet difficult to refine. First necessary is to understand the governing principles, and to practice according to their standards. Then, by coordinating breathing and exertion, one skillfully connects the bridges. Once this is achieved, further progress comes naturally.
 
從而求其橫直吞吐進退出入四到之秘五門之法八 面之形生死之路
 
From this point, one may explore the horizontals and verticals, swallowing and spitting, advancing and retreating, outside and inside; the four hidden attainments, the five-gate technique, eight-directional form, live and dead roads.
 
何謂四到心目手足齊施是也
 
What are the four achievements? Together, these are of the mind, eyes, hands, and feet.
 
夫心到則操守有主目到則光明不紊手到則攻取易行足到則搏擊快捷
 
The mind's achievement is to guard with leadership; the eye's achievement is to see clearly, without confusion; the hand's achievement is to strike and to receive with ease; the foot's achievement is promptness in movement and attack.
 
分五門於上中下左右上有七竅中有心胸下有陰陽左有左手足之門右有右手足之門
 
The five gates are: above, center, below, left, and right. Above are the seven sensory apertures, at center is the chest, and below, the groin.  At the left is the left hand and foot gate, and at the right is the right hand and foot gate.
 
整其門戶固其形勢人或疎於此則得其門而敗之
 
Set the gates in order, and strengthen the form. If finding someone neglectful of this, take over his gates and defeat him.
 
更審東西南北四方形勢必須佔地之險詧其強弱攻弱取易所以趨生門而避死路
 
Furthermore, as one examines a situation from all sides, east, south, north, and west, one must assess the hazards of the terrain. Having observed all strengths and weaknesses, attack weakness, and take advantage of what comes easily. In sum, to seek the live gate likewise avoids the dead road.
 
試遠度近虛來實迎實來虛閃遠不發拳近則搶風高來高救低來低消當審慎於動靜之機高下之虞
 
Measuring distance on approach, if an empty attack comes, receive it solidly; if a solid attack, meet it with emptiness. When far, do not send out your fist; when close, then "headwinds" will occur [i.e. competing flow and potential struggle]. If coming high, rescue above, if coming low, dissolve, or block, below. At all times, cautiously gauge opportunity to be found in signs of action being taken, and possibilities for victory or defeat.
 
進退出入之要吞吐浮沉之方熟識斯法為日孳孳則自能熟以生巧千拳如一度萬法亦歸宗耳
 
As for the advancing, retreating, inside, and outside principles, and the swallowing, spitting, floating, and sinking formula, if there is a thorough understanding of these skills, along with diligent practice sustained on a daily basis, perfection will come naturally: "one thousand fighting styles as one; ten thousand techniques, likewise returning to a single origin."
 
昔華陀謂吳普曰人體常勞動則食物易消血脈流通呂覽曰流水不腐戶樞不蠹此言深得運動衛生之旨
 
Long ago, Hua Tuo taught Wu Pu that the human body, when exercised regularly, will digest food more easily, while at the same time experiencing a general improvement of the circulatory system. Also, in the Examinations of the Spring and Autumn Annals of Master Lu (3rd Century BCE), it is written, "flowing water does not stagnate; a door-hinge does not become worm-eaten." These emphasize the role of exercise in promoting good health.
 
而僕謂拳術亦然不特可為正當之防衛更可為衛生之實驗也
Personally, I find that martial art proves useful, not only for self-defense, but for health benefits as well.
嘗見世之習拳術者莫不體魄强健精神矍鑠鍊形服氣却病延年則獲益豈淺鮮哉僕不敏敢以是言公諸世使後之學者知所津梁是亦保存國粹研究衛生之一助也乎
Throughout the world, when meeting people who practice martial art, it will be noticed that they are both mentally focused and physically strong. Through forging one's form in the practice of "Air Clothes" [Taoist Qigong breathing skills], it is possible to avoid illness and prolong life. Thus I emphasize that martial art is useful, not only as a means of self-defense, but also to provide a regimen of physical exercise for the improvement of one's constitution.
Speaking from my own experience, these are true benefits to be gained from the practice of martial art.
My wish is to share these benefits, and to create a bridge by which these unique features of our national [Chinese] culture may be preserved for the rest of time.
Translation by Sifu Michael Goodwin
ABOUT THE LAM SAI WING IRON THREAD VIDEO
Hong Kong reporter Rachel Cheung writes:
"Fascinated by photography, Lam Sai-wing…was so drawn by the technology that he showed his moves in front of the camera, capturing each step in photos. That was in the 1920s, and little did he know, the pictures will enable future generations to bring his art back to life almost a century later."



Lam Sai Wing demonstrating key bridges, in an excerpt from the photographic series he commissioned to record his art step-by step.
Reporter Cheung continues: "A realistic animation of Lam's Iron Thread Boxing [was] one of the highlights in the exhibition "Lingnan Hung Kyun Across the Century: Kung Fu Narratives in Hong Kong Cinema and Community," which [opened] at the Hong Kong Visual Arts Centre on [6 September 2017]. Source: "Hong Kong martial arts grandmaster Lam Sai-wing brought to life in 3D exhibition" by Rachel Chung, South China Morning Post (5 September 2017)

Watch the Lam Sai Wing Iron Thread video, and read  more from Rachel Chung about the making of the video.

SF HUNG GAR HOME PAGE
CHAPTERS: WORLD SF HUNG GAR
SIFU MICHAEL GOODWIN
SF HUNG GAR CURRICULUM
CURRICULUM PHOTOS & VIDEOS
SF HUNG GAR NEWS

Sifu Michael Goodwin
SF Hung Gar
Personal & group instruction since 1993
+01 415 574 9433
sfhunggar@gmail.com