SF HUNG GAR NEWS
HONORING GRAND MASTER LAM CHUN FAI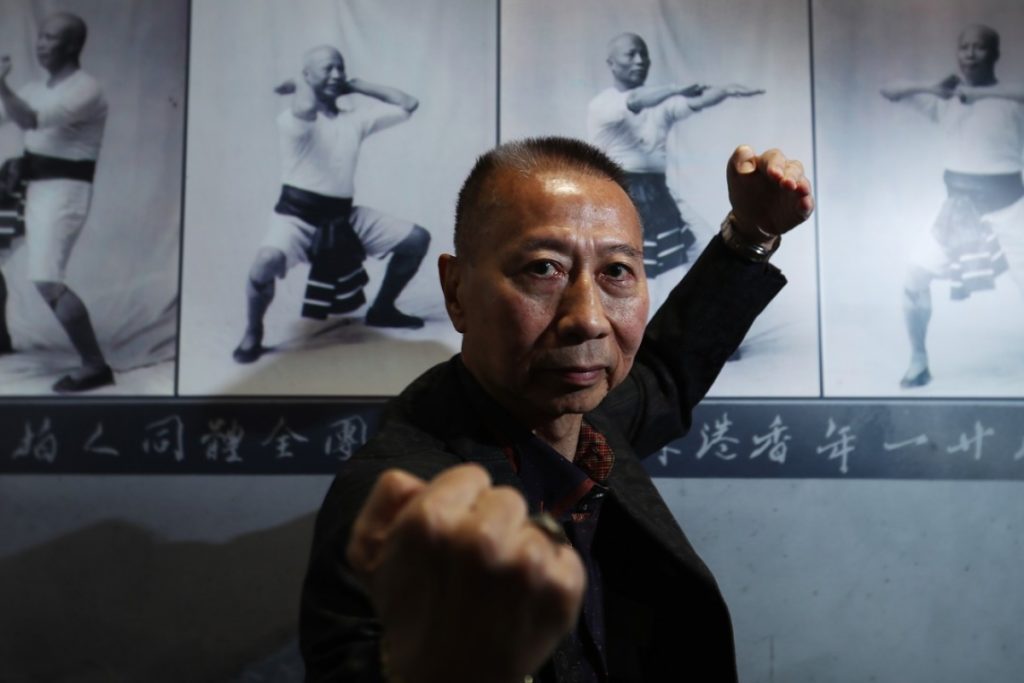 From every corner of the globe, martial artists and luminaries gathered on 24 November 2019 in Hong Kong, to honor Grandmaster Lam Chun Fai, and to celebrate his 80th birthday.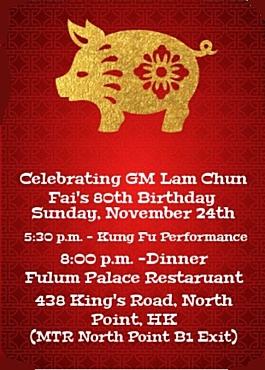 As part of the celebration, the 3rd Hung Kuen Competition was held on 23 November 2019, in Wanchai.


Sifu Michael Goodwin, Director of World SF Hung Gar, and Sifu Sidcley de Almeida, Branch Instructor, SF Hung Gar Brasil had the good fortune to attend the full celebration of Grandmaster Lam Chun Fai.
INTERESTING HAPPENINGS IN MASSACHUSETTS AND SAN FRANCISCO by Sifu Michael Goodwin.  An earlier version was published in Lam Family Worldwide Hung Kuen Newsletter (September 2018)
TANG KWOK WAH
Whenever thinking of Great Grandmaster Lam Cho's outstanding students, the name of Grandmaster Tang Kwok Wah (1924-2011) is always prominent among them.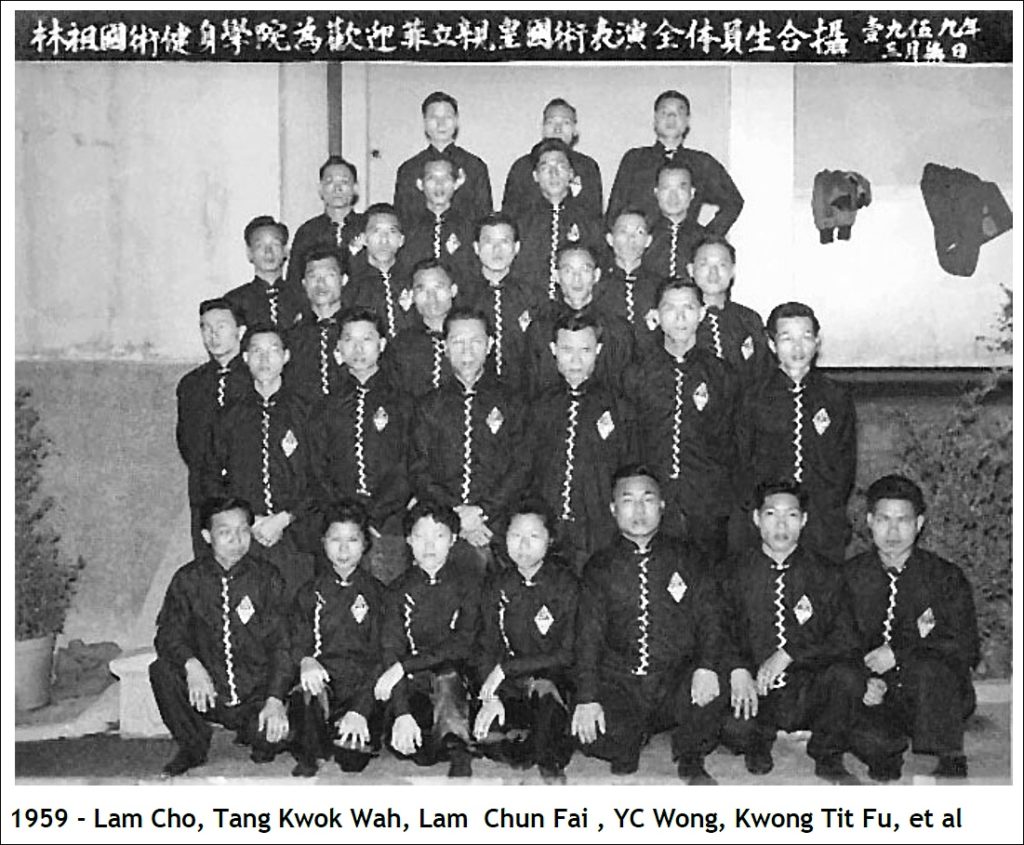 Tang Kwok Wah began his study of Lam Family Hung Kuen with Great Grandmaster Lam Cho, and at the age of eight was adopted as a son. He learned the Lam Family martial arts, Dit Da herbal medicine, and was one of the principal instructors in Lam Kwoon, along with Great Grandmaster Lam Cho's own sons.
In 1963 Tang Kwok Wah opened his own school in Hong Kong and, in 1973, emigrated to the United States, where he lived for the remainder of his years. His teaching students in the United States today include Grandmaster Winchell Woo (Boston, Massachusetts), and Grandmaster Yon Lee (Harvard University, Cambridge, Massachusetts).
The lightning fast two-man set demonstrations of Grandmaster Tang Kwok Wah and Grandmaster Lam Chun Fai are well remembered, especially the double knives vs spear!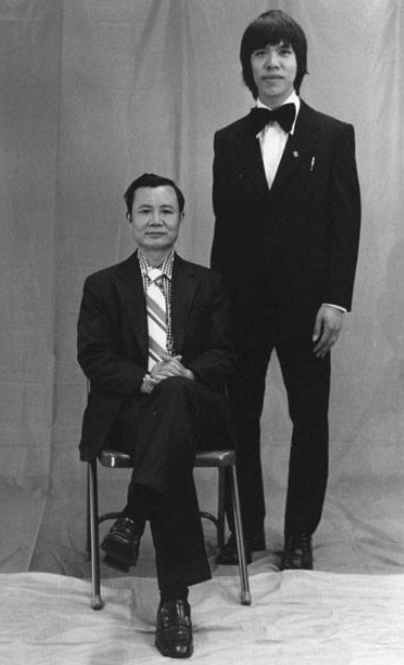 1973 – Sifu Tang Kwok Wah (seated) & Yon Lee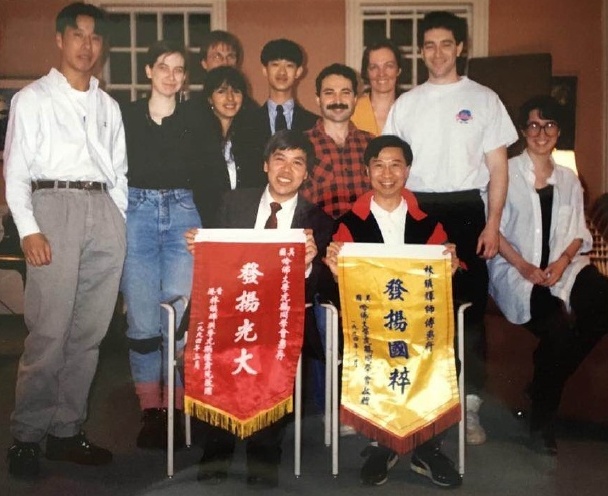 1994 – In front, Yon Lee (left) & Lam Chun Fai (right)
CHECKLEY SIN
Earlier in the year I had been both honored and delighted to be invited by Grandmaster Yon Lee to visit his Harvard Tai Chi Tiger Crane Kung Fu Club at Harvard University in Cambridge, Massachusetts, and to have a chance to experience and better understand the legacy left to Lam Family Hung Kuen by the late Grandmaster Tang Kwok Wah. I was asked, on behalf of Harvard Harvard University, to facilitate an introduction with the World Hung Kuen Association's President, Grandmaster Checkley Sin Kwok Lam.
Within hours, Boston lobsters were being flown to Checkley Sin's household in New Territories, courtesy of the Hon. Raymond L. Flynn, former Mayor of Boston, Massachusetts  and former US Ambassador to the Vatican.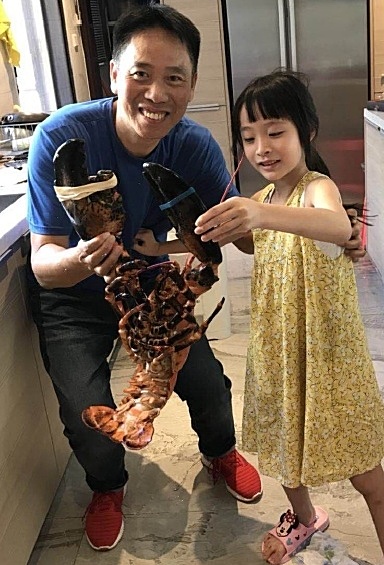 Checkley Sin & one of the Boston Lobsters
CHECKLEY SIN IN BOSTON
Upon arrival in Boston, Checkley Sin was first ushered into Boston city council chambers, where the occasion of his visit was honored with a commemorative proclamation by Councilman Edward Flynn, on behalf of the City of Boston.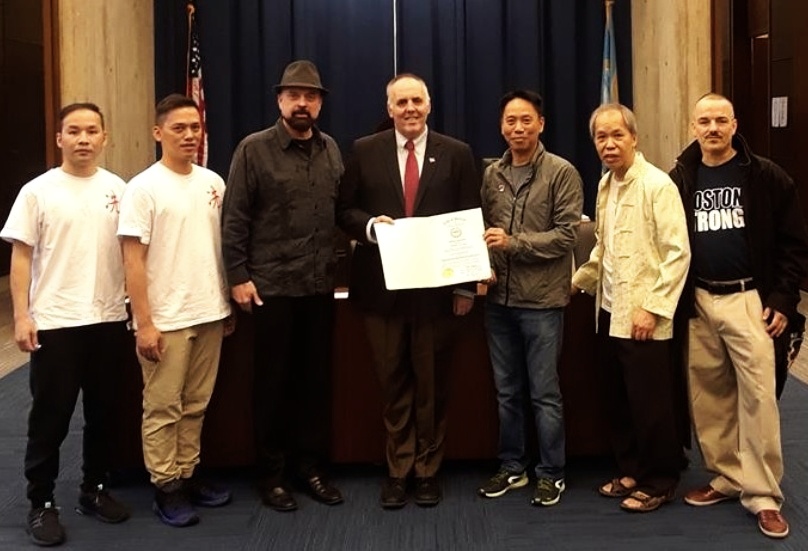 Boston City Council Commemoration: Councilman Edward Flynn (center), and on the right, Checkley Sin, Yon Lee, & Michael Goodwin

Next was a meeting with the City of Boston Office of Business Development, where Checkley Sin, one of China's most successful Kungfu film producers, was presented with local film industry options and incentives. Options available in China were also explored. Some 20 years earlier, a "sister state" trade status between Massachusetts and Guangdong had been authored by Grandmaster Yon Lee, providing foundation and further paving the way for this discussion.
Lunch at the posh Durgin Park restaurant, located in Boston's historic Quincy Market district was followed by a meet-ing with Checkley Sin,  Dr. Sean Palfrey of Adams House, and representatives from Harvard's Office of Development,  where scholarships, endowments, and program funding were the subject of discussion.
The result so far has been Grandmaster Checkley Sin's preliminary offer of fully funded internships for ten Harvard students each summer, beginning in 2019.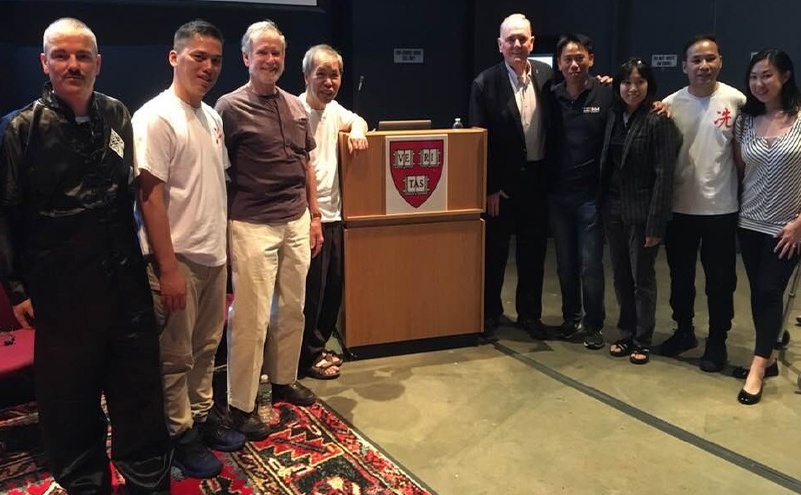 At Harvard, Michael Goodwin (far left), Yon Lee (left of lectern), & Checkley Sin (fourth from right).

CHECKLEY SIN AT HARVARD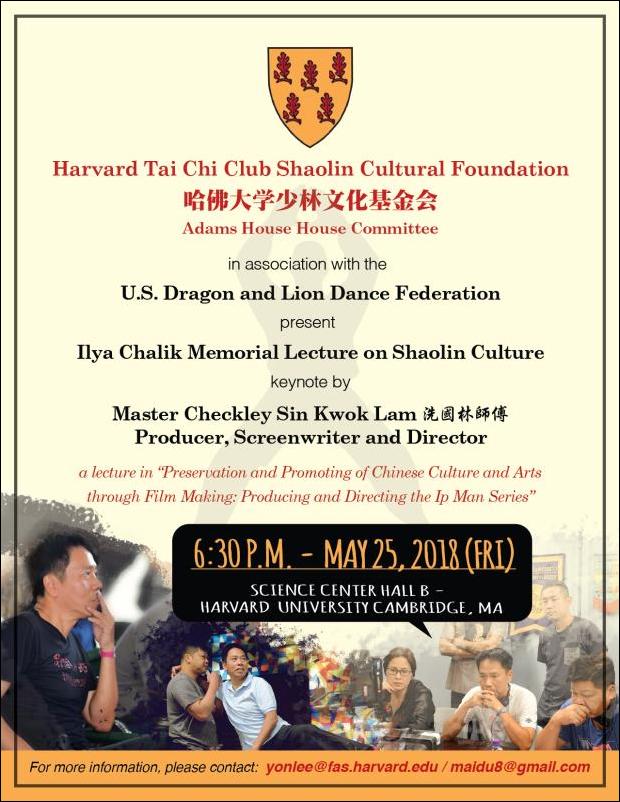 On 25 May 2018, Grandmaster Checkley Sin was keynote speaker for the Ilya Chalik Memorial Lecture on Shaolin Culture, organized by Harvard Tai Chi Club Shaolin Cultural Foundation, in association with the U.S. Dragon and Lion Dance Federation, and held at the Science Center at Harvard. His subject was "Preservation and Promotion of Chinese Culture and Arts through Film Making: Producing and Directing the Ip Man Series," complete with live demonstrations of martial arts, ably assisted by Ip Man action directors Sifu KK Yiu and Sifu Marvel Chow. The show concluded with my own performance of Plum Blossom Double Chain Whips, in honor of Chinese culture and martial arts preservation, Lam Family Hung Kuen, and the late Great Grandmaster, Tang Kwok Wah.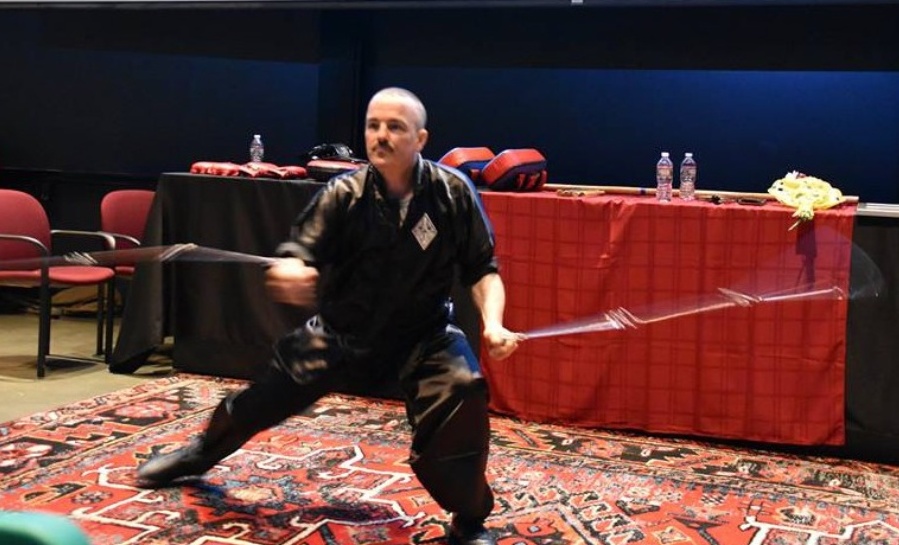 Sifu Michael Goodwin performing the double whip chains at Harvard (25 May 2018)
YON LEE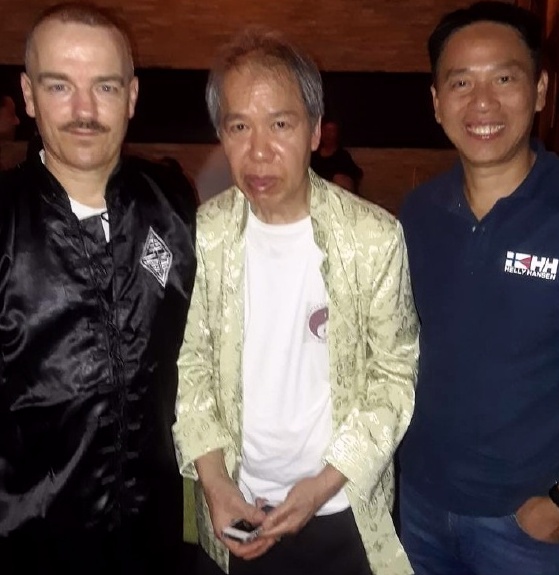 Michael Goodwin, Yon Lee & Checkley Sin at Harvard (25 May 2018)
I greatly enjoyed the hospitality Grandmaster Yon Lee's student, Sifu Michael Showstack, and of Grandmaster Winchell Woo's students who assist Grandmaster Yon Lee, Sifu Tim Lavallee, and Sifu Deb Sukeforth.
Grandmaster Yon Lee and these students shared with me an understanding of Tang Kwok Wah Hung Kuen, Qigong, and the "Five Elements Tai Chi," a collaborative development between Grandmaster Yon Lee and Grandmaster Winchell Woo, not to be confused with the ubiquitous art of Taijiquan, "Five Elements Tai Chi" is a formula based in Hung Kuen principle, polarized in five phases, specializing on the soft bridge, and is unique to Grandmaster Tang Kwok Wah's research in his later years.
As Grandmaster Winchell Woo was on business in Hawaii, I was unfortunately unable to meet with him during this visit. Grandmaster Yon Lee remembers fondly the Harvard visit of Great Grandmaster Lam Chun Fai in 1994, and hopes to invite him again, as well as other Hung Kuen masters interested in cultural preservation and exchange, for the first Harvard University Hung Kuen Summit, to be scheduled for Autumn 2019.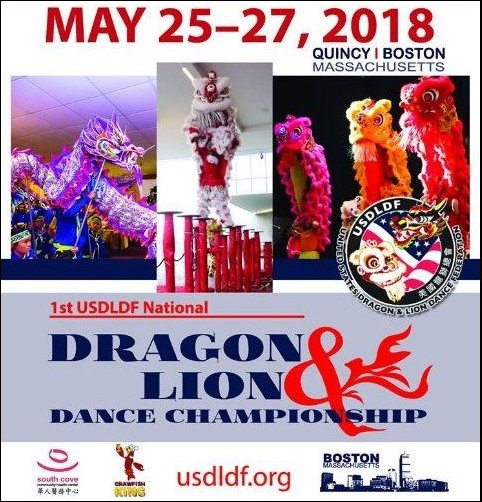 On 25-27 May 2018, the 1st National Lion and Dragon Dance Federation Championships were held in both Quincy and Boston, Massachusetts. Hosted by Sifu Nelson Ferreira, Sifu Mai Du, and Sifu Phong Vo, Grandmaster Checkley Sin was a guest of honor. Lion dance teams from all over the USA were present for this gala event. I was likewise pleased to meet Lam Family Hung Kuen brothers, Sifu Lucien Zoll and Sifu Alex Woo, both of Boston's Grandmaster Kwong Tit Fu linage, through Grandmaster Calvin Chin.
SIFU FREDERICK MOK
In another pleasant development, I was visited in San Francisco this August by Sifu Frederick Mok, who is also a Tang Kwok Wah lineage member through his student, Sifu Mak Chi Kong. His Sigung, Grandmaster Chan Chi Keung, learned from Grandmaster Tang Kwok Wah, and is still teaching in Hong Kong. Introductions were made, and it was a pleasure to have again facilitated a Tang Kwok Wah lineage reunion!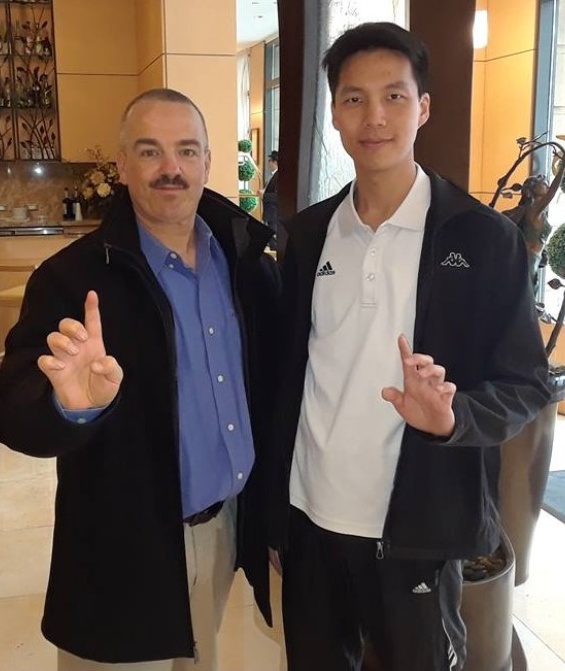 Michael Goodwin with Frederick Mok, the 3rd generation lineage of Tang Kwok Wah
In his article, "Touring Hung Kuen Schools in the USA,"  Sifu Frederick Mok writes: As we all know, Lam Family Hung Kuen is a global family. I have heard the same message at Grandmaster Lam Chun Fai's 1st book launch in 2013. "Frederick, we welcome you to visit USA. Please feel free to contact us when you are coming." These were the messages that I received from various Hung Kuen masters in USA. In fact, this is my very first time to visit USA…I was planning to visit Sifu YC Wong, Sifu Michael Goodwin in San Francisco, then visit Sifu Calvin Chin and also pay respects to my ancestors (my Tisikung Tang Kwok Wah) in Boston. Thanks to Sifu Michael Goodwin who gave me Sifu Yon Lee's contact, so that I can visit him and his school… Read Sifu Frederick Mok's lavishly illustrated complete article in Lam Family Worldwide Hung Kuen Newsletter (September 2018),
IN SUMMARY, one of the greatest joys and benefits that we can experience today is our interaction, and our exchange. Thus, I hope to see all of you at the 3rd Wong Fei Hung Cup and 1st Lam Sai Wing International Warrior Cup Championships in November of this year! [2018]
GRANDMASTER LAM CHO PASSES AWAY AT 103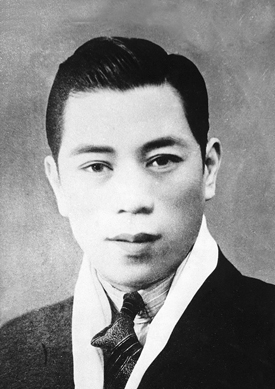 Great Grandmaster Lam Cho
27 February 1910 – 29 March 2012
We regret to announce that Grandmaster Lam Cho has passed away, at the Hong Kong Baptist Hospital, at 2:15 pm on 29 March 2012, at the venerable age of one hundred and three. Although he has passed, his spirit lives on, through his work, through his family, and through his students worldwide. Our deepest condolences to his family, and our heartfelt appreciation for all that he has done.    – Michael Goodwin (30 March 2012)
GRANDMASTER LAM CHO'S 100TH BIRTHDAY CELEBRATION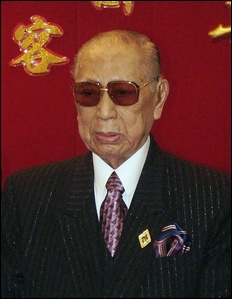 Grandmaster Lam Cho, the living legend of Hung Gar, celebrated his 100th birthday in Hong Kong on 12 February 2009. Hundreds of Hung Gar sifus and students from all over the world traveled to Hong Kong to pay their respects, and to join Grandmaster Lam Cho at his birthday banquet and celebration, held at a restaurant in Mongkok, close to the Lam Family school.
The celebration opened with a traditional Lion Dance in honor of Grandmaster Lam Cho, after which the Grandmaster and his guests enjoyed a spectacular display of Lam Family traditional gung fu by practitioners from Europe, the United Kingdom, several Asian nations, the Americas, and, of course, the extensive Hong Kong Hung Gar community. Four hours of demonstrations and presentations to Grandmaster Lam Cho were followed by a memorable birthday feast.
Notable guests included Finance Secretary of Hong Kong John Tsang, and Hong Kong martial arts film star Gordon Liu Jiahui. (13 February 2009)
SF HUNG GAR HOMEPAGE
SIFU MICHAEL GOODWIN
CHAPTERS: WORLD SF HUNG GAR
SF HUNG GAR CURRICULUM
CURRICULUM: VIDEOS AND PHOTO GALLERY
GRANDMASTER LAM SAI WING


Sifu Michael Goodwin
SF Hung Gar
Personal & group instruction since 1993
+01 415 574 9433
sfhunggar@gmail.com